Since your liver is your main detox organ, you're smart to keep it performing at its best. Certain foods and supplements can help improve liver function and have anticancer properties.

Liver detox systems are enhanced by broccoli sprouts, seaweed, and dark greens, and are proven to reduce the risk of cancer at various sites, including the prostate, lung, breast, and colon. How? These cruciferous vegetables rev up detoxifying enzymes at the genetic level.

Other things that have been shown to improve liver health include choline (which can be found in these cruciferous vegetables), as well as N-acetyl-cysteine (600 milligrams per day), milk thistle (200 milligrams per day), lecithin (1 tablespoon daily), and rosemary extract (150 milligrams per day).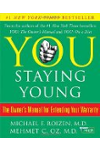 Continue Learning about Digestive Health