Refractory ulcers occur when a peptic ulcer does not respond to treatment. For this reason, a refractory ulcer cannot run in a family. Instead, it is caused by lifestyle (smoking, using alcohol, taking aspirin and related medicines) or a biological problem, like a serious disease or an overproduction of stomach acid. One type of peptic ulcer, however, a duodenal ulcer, can run in families. Family history can be a factor when it comes to refractory ulcers or ulcers in general.
Continue Learning about Digestive Health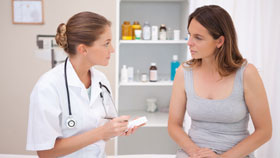 The digestive system includes all parts of the body that process food and expel waste, from your mouth to the end of your digestive tract. Diseases of the gastrointestinal tract prevent your body from effectively using the food yo...
u eat. Learn more about digestive health from our experts.
More