Pregnancy can increase your risk for gallbladder disease. Your gallbladder is the small, pear-shaped organ located just below your liver in the upper right side of your abdomen. Your liver makes a digestive fluid called bile and releases it into your gallbladder, where the bile is concentrated and stored. When you eat a meal, your gallbladder releases just the right amount of bile into your intestine to help with the digestion of food.

As your fetus grows into your third trimester of pregnancy, your uterus gets larger and can push up against your gallbladder, tipping it backward so that it may not be able to empty appropriately for weeks or months. If bile stays too long in your gallbladder, you can develop gallstones and gallbladder problems.
Continue Learning about Digestive Health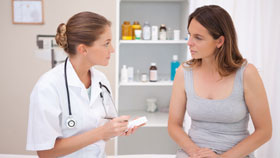 The digestive system includes all parts of the body that process food and expel waste, from your mouth to the end of your digestive tract. Diseases of the gastrointestinal tract prevent your body from effectively using the food yo...
u eat. Learn more about digestive health from our experts.
More