An occasional belch during or after meals is normal and releases gas when the stomach is full of food. However, people who belch frequently may be swallowing too much air and releasing it before it enters the stomach.
Sometimes, a person with chronic belching may have an upper gastrointestinal (GI) disorder, such as peptic ulcer disease, gastroesophageal reflux disease (GERD), or gastroparesis, also called delayed gastric emptying.
Sometimes, people believe that swallowing and releasing air will relieve their discomfort. As a result, they may develop a habit of belching to relieve discomfort.
Gas-bloat syndrome may occur after fundoplication surgery to correct GERD. The surgery creates a one-way valve between the esophagus and stomach, which allows food and gas to enter the stomach, but prevents normal belching and the ability to vomit. This syndrome occurs in about 10 percent of people who have this surgery, but may improve with time.
This answer is based on the source infromation from the National Institute of Diabetes and Digestive and Kidney Diseases.


Continue Learning about Digestive Health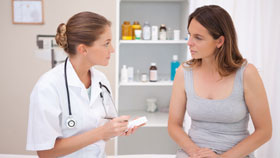 The digestive system includes all parts of the body that process food and expel waste, from your mouth to the end of your digestive tract. Diseases of the gastrointestinal tract prevent your body from effectively using the food yo...
u eat. Learn more about digestive health from our experts.
More