Jared Frattini, MD from Medical Center of Trinity describes anal fistulas and the necessity for surgery in these cases.
A fistula is an infection inside the anus that burrows its way out to the skin and stays infected, says Stephanie Wishnev, MD, a colorectal surgeon at MountainView Hospital. In this video, she says fistulas begin as an abcess.

Anal fistulas are abnormal, small channels or connections between the rectum and skin in the anorectal region. Anal fistulas often develop from an acute infection of an anal gland, located inside the anal opening. The infection causes an abscess to form, which then develops into a fistula or channel leading to the outside skin.Anal fistulas may also be caused by surgery, Crohn's disease, or radiation therapy.
Continue Learning about Digestive Health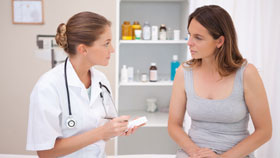 The digestive system includes all parts of the body that process food and expel waste, from your mouth to the end of your digestive tract. Diseases of the gastrointestinal tract prevent your body from effectively using the food yo...
u eat. Learn more about digestive health from our experts.
More