Some of the best alternative treatments for nausea come from natural herbs and spices, often in the form of tea. In this video, Dr. Stephen Atkins, an integrative medicine specialist, discusses which natural remedies do the best job of quelling the queasies.
To treat nausea, some experts recommend caraway tea; others recommend mint tea. Why not get the best of both worlds and make Dr. Oz's secret recipe for caraway mint tea? Combine 1 tablespoon caraway seeds and 1 teaspoon dried mint, add 12 ounces boiled water, cover and let sit for 10 minutes. Remove the seeds and mint, then sweeten with 1 teaspoon of honey. Both mint and caraway seeds contain compounds that will soothe muscle tissue in the digestive tract, relieving gas.
Alternately, try taking artichoke leaf extract. This natural extract, available for around $6 at health food stores, will increase bile secretion and combat that queasy, nauseated feeling. Take one capsule twice a day with food for stomach relief.
This content originally appeared on
doctoroz.com
Aside from the traditional prescribed treatments for nausea, there are a variety of home remedies and alternative therapies used. These can include fresh ginger, camomile tea, rice water, apple cider vinegar as well as acupressure. It is important to note that you need to be certain the source of the nausea. In many cases nausea is a symptom of what could be a bigger problem. Always consult with your doctor if uncertain or if symptoms persist.
Continue Learning about Digestive Health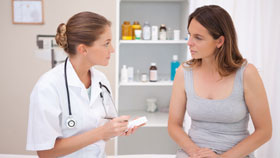 The digestive system includes all parts of the body that process food and expel waste, from your mouth to the end of your digestive tract. Diseases of the gastrointestinal tract prevent your body from effectively using the food yo...
u eat. Learn more about digestive health from our experts.
More