Digestive complaints -- gas, bloating, reflux, constipation, heartburn, irritable bowel, pain, diarrhea, or a wonderful combination of all or any of these -- are signs of imbalances that your body wants you to tune-in and correct, like yesterday. Your belly doesn't want to be sluggish, overworked and underpaid, or moving so fast it's out of control and leaves you spinning. Digestive disturbance means that nutrients aren't getting where they should -- either to your cells for energy and repair work, or out of the body because they don't belong. So an unhappy belly is something that deserves your attention ASAP.

Digestive health is the center of gravity for all other points of health in the body. When out of balance, sick, or diseased, virtually every other system and organ gets negatively affected, triggering scores of problems you wouldn't normally or intuitively link directly to the digestive tract.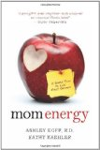 More About this Book
Mom Energy: A Simple Plan to Live Fully Charged
       From celebrated dietitian Ashley Koff and fitness trainer to the stars Kathy Kaehler comes Mom Energy, an exciting new way for moms to tap into their own natural and renewable sources of...
Continue Learning about Digestive Diseases