"Stomach flu" is the commonly used name for gastroenteritis. Gastroenteritis is almost always caused by a virus. But it is not caused by the influenza virus.

The viruses that most often cause gastroenteritis are noroviruses and rotaviruses, but there are host of other viruses. Some bacteria and parasites also can be the culprit.

Viral gastroenteritis is highly contagious, but it is not airborne. It spreads from person to person by direct contact.

These viruses can survive in food and beverages. Food becomes contaminated most often when people do not wash their hands (or wash them poorly) after using the bathroom.

This is why buffets can infect many people. This has been the problem with outbreaks on cruise ships.

Other sources of viral contamination are drinking water and seafood that has been exposed to untreated sewage.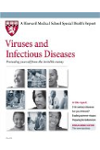 Continue Learning about Digestive Diseases