The story of wheat in the U.S. unfortunately starts with a raw material that is very nutritious and a final product that in most instances is not. As a standard rule, wheat products such as pasta, noodles, breads, and cookies use flour that undergoes a process in which 60 percent of the wheat grain is removed. Included in the 40 percent lost are the most nutritious aspects of the wheat: the bran and the germ. As a result, more than half of the B vitamins, folic acid, zinc, copper, phosphorus, calcium, and iron are removed. In the 1940s, the U.S. instituted laws requiring enrichment as a reaction to the observed health problems of the population. Unfortunately, enrichment does not even replace what has been lost.
Unextracted whole wheat, on the other hand, yields a good supply of dietary fiber and manganese. It also contains a healthful portion of vitamins B1, B2, B3, B5, B6, and E and folic acid, as well as calcium, phosphorus, zinc, copper, protein, magnesium, and iron. Wheat germ is the vitamin- and mineral-rich embryo of the wheat kernel that is removed during the refining of whole-wheat grains into white flour. It is an excellent source of vitamins B1 and B6 and folic acid, as well as the minerals zinc, magnesium, and manganese. Wheat germ also has high oil content and therefore is an excellent source of vitamin E.
Wheat's health benefits are maximized when 100 percent whole-wheat products that include the bran and the germ are used and are virtually non-existent in products made of bleached white flour. Furthermore, bleached white flour has a higher glycemic index and affects blood sugar levels untowardly. Some of the benefits of unextracted whole wheat nclude:
Reduction of the incidence of colon cancer, a benefit that has not been seen with oat bran or corn.
Reduction of the risk of breast cancer, as wheat bran has been shown to decrease blood estrogen, a promoter of breast cancer.
Promotion of regular bowel function, which can significantly reduce the incidence of diverticular disease.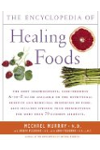 More About this Book
Encyclopedia of Healing Foods
From the bestselling authors of The Encyclopedia of Natural Medicine, the most comprehensive and practical guide available to the nutritional benefits and medicinal properties of virtually everything...
Continue Learning about Dietary Supplements
Whether you're visiting the drug store, grocery or natural food shop you'll likely find an aisle where there are jars and bottles of things for you to put in your body that are neither foods nor medicines. Ranging from vitamins an...
d minerals to fiber and herbal remedies, these supplements are not regulated in the same way as either food or medicine. Some of them are backed by solid research, others are folk remedies or proprietary cures. If your diet does not include enough of certain vitamins or minerals, a supplement may be a good idea. Natural treatment for conditions like constipation may be effective. But because these substances are unregulated, it is always a good idea to educate yourself about the products and to use common sense when taking them. This is even more true if you are pregnant or taking a medicine that may be affected by supplements.
More