Blackstrap molasses is an excellent source of iron. It is also a very good source of vitamin B6 as well as many minerals, including calcium, copper, manganese, potassium, and magnesium. In addition, it is a good source of selenium and pantothenic acid. A 3.5 oz. (100 g, or five tablespoons) serving of blackstrap molasses provides 235 calories, primarily from the 61 g of carbohydrate. There is no fat or protein in molasses.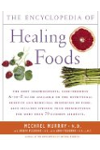 More About this Book
Encyclopedia of Healing Foods
From the bestselling authors of The Encyclopedia of Natural Medicine, the most comprehensive and practical guide available to the nutritional benefits and medicinal properties of virtually everything...
Continue Learning about Dietary Supplements