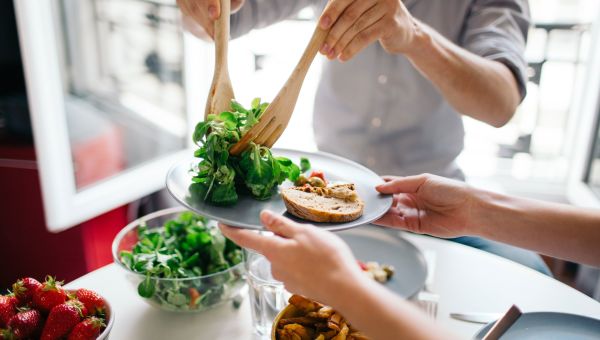 8 Effortless Ways To Add Greens to Every Meal
Hate salads? You can still get the leafy vegetables your body needs.
1 / 9
By Taylor Lupo
The United States Department of Agriculture guidelines recommend consuming two to three cups of vegetables each day, but you don't have to eat an entire crown of broccoli with dinner or suffer through a bowl of salad at every meal. In fact, you can add spinach, kale and romaine into the dishes you already enjoy—you won't even taste the difference.
Greens are low in calories and help keep your body hydrated, but they're also loaded with vitamins and minerals, like vitamins A and K and manganese . Check out these easy (and delicious) ways to sneak greens into your meals, and reach your daily recommendation. 2 / 9

Breakfast: omelets

Start your day on a green note by adding nutrient-dense greens like spinach, kale and parsley to your breakfast. Scramble two eggs or egg whites, then load in green vegetables like chopped broccoli or arugula. This meal is rich in protein and fiber, which will keep you full all morning.

Veggies are low in calories, just seven per raw cup of spinach and 31 in a chopped cup of broccoli. Slim down your meal even more by swapping whole eggs for egg whites and skipping the cheese. 3 / 9

Breakfast: smoothies

If you like starting your day with a smoothie, increase its nutritional value by adding kale or dandelion greens. In addition to a vibrant green color, kale adds loads of vitamins and minerals, like vitamins A, C, and K, potassium and calcium. Vitamins A and C help your body produce and repair cells, while calcium assists in keeping bones and teeth strong.

It's can be easy to overload your blender, adding too many calories and more fat and sugar than you need. It's best to keep it simple, with ingredients like spinach or kale and low-sugar fruits, like raspberries and blackberries. Adding a source of healthy fat or protein can help keep you full all morning; try a tablespoon of chia seeds, a quarter of an avocado or a scoop of your favorite protein powder. 4 / 9

Breakfast: oatmeal

Swap sweet oatmeal for a bowl full of the savory stuff. A serving of steel-cut oats is high in fiber, which can help keep you full and promotes healthy digestion. Next, top your oats with steamed greens, like low-calorie spinach or arugula, and a poached egg. This breakfast is the perfect mix of fiber and protein, and if you choose spinach leaves, rich in vitamin C and iron, too. 5 / 9

Lunch: vegetable soup

Vegetable soups and stews are some of the easiest—and most delicious—ways to get your daily serving of veggies. Soups are versatile, too. Just wash and chop whichever vegetables are hiding in your fridge. Vitamin- and fiber-rich asparagus makes a great addition. Combine in a pot or slow cooker with low-sodium vegetable broth, a blend of herbs and spices and a few handfuls of the greens, like Swiss chard, kale or bok choy.

Making your own vegetable soup can cut some of the fat, sodium and calories, which often lurks in the store-bought versions. 6 / 9

Lunch: lettuce wraps

Sandwich bread and wraps can be calorie bombs, adding a few hundred extra calories to your afternoon meal. Swap this crab-heavy option for a few pieces of crisp lettuce, instead. Bibb, romaine and iceberg lettuce are low in calories, and deliver a punch of fiber and vitamin A, which can help promote dental and skin vitality.

Instead of slathering on a spoonful of mayonnaise, spread in some homemade hummus. Add in a source of lean protein and a serving of veggies, and you've got yourself a filling lunch that's still low in calories. 7 / 9

Dinner: veggie noodles

Including fresh spinach within your favorite pasta dish can add flavor, color and a dose of vitamin A. You can slash carbohydrates and calories by ditching the pasta altogether. Veggie noodles, often made from zucchini, butternut squash or cucumber, are a great alternative to traditional and even whole grain pasta. Zucchini noodles contain potassium, which helps promote normal muscle function, and manganese, important for bone health.

Add a double dose of nutrients to your pasta by sneaking some greens into your sauce. Boiled collard greens adde texture, fiber and vitamin A to your homemade pasta sauce. You can also try blending basil and sage into your pasta sauce for extra nutrition without the extra calories. 8 / 9

Dinner: turkey burger

Before you toss your next turkey burger on the grill, mix shredded zucchini and scallions into the ground poultry. The combination of these greens adds folate, a B-vitamin helpful for producing healthy cells, as well as vitamin K, essential for healthy blood. The moisture in zucchini also helps keep your burgers juicy.

Don't forget the toppings. Layer on a few lettuce leaves, calorie-free pickle chips and avocado for added vitamins and good-for-you fats.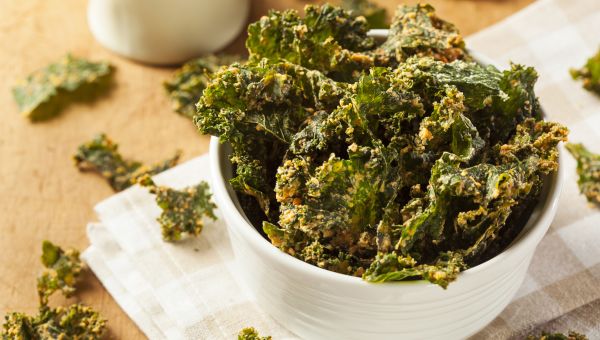 9 / 9

Snack: kale chips

Typical junk foods are nothing but bags of empty calories; most offer no vitamins and minerals. An ounce of potato chips, only totaling about 15 crisps, contains 160 calories and 10 grams of fat. Instead, try a wholesome snack options, like homemade kale chips. Per cup, kale contains 34 calories, less than 1 gram of fat and loads of vitamin A, C and K.

Just drizzle veggies with olive oil and your favorite spices, bake for about 15 minutes at 350 degrees Fahrenheit (until the edges are brown, but not burnt) and enjoy!

To eat healthy, pick foods that are the colors of the rainbow, and watch your portion sizes. Eating foods that are colorful-red apples, orange carrots, yellow squash, green salad, tomatoes, blueberries and purple eggplant-helps yo...
u add fruits and vegetables to your diet.
More