Fruits That Are Actually Hidden Sugar Bombs
And low-sugar options you'll love.
Medically reviewed in January 2023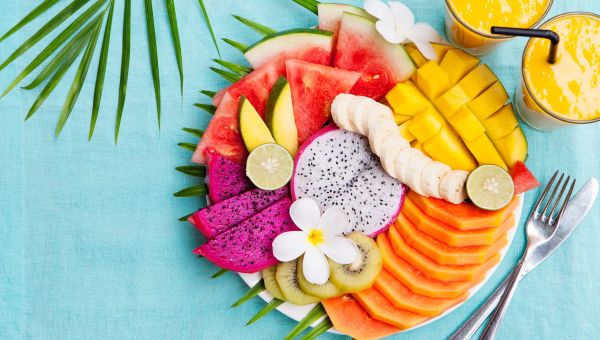 1 / 9
If you've heard you should avoid fruit to help lose weight or control diabetes, you received some bad advice. Pretty much everyone needs fruit in their diet, even people limiting their sugar intake. The average adult should aim for about one and a half to two cups of fresh fruit daily. Canned and frozen fruits are okay too, but opt for brands that don't contain any added sugar or syrups.
But what about the natural sugar in fruit? Does it count towards your daily sugar or carb allowance? Should you avoid extra-sweet options like mangoes and bananas? We asked Madhuri Kakarala, MD, PhD, an internal medicine doctor from Mercy Health Saint Mary's in Grand Rapids, MI, which fruits contain the most sugar, and which to enjoy worry-free (even if you have diabetes). 2 / 9
Sugar bomb: Mangoes
"Some fruits like mangoes are very high in natural sugar," says Dr. Kakarala. "But the issue isn't just the sugar you're consuming. It's portion control, the total amount of sugar and carbs in the fruit, and whether the fruit—or your meal as a whole—has enough fiber in it."
Fiber slows the digestion and absorption of sugar into your bloodstream, she explains. So if the fruit's high in natural sugar, but low in fiber, it can make your blood sugar spike. Mangoes, for example, contain 46 grams of sugar and only 5 grams of fiber.
If you're counting carbs to help control diabetes, a mango will take up a large portion of your daily allowance at 50 grams. If you're in the mood for mango, enjoy it as part of a meal, replacing starchy foods like sweet potatoes or rice. Eat it along side a high-fiber item like barley to slow its digestion.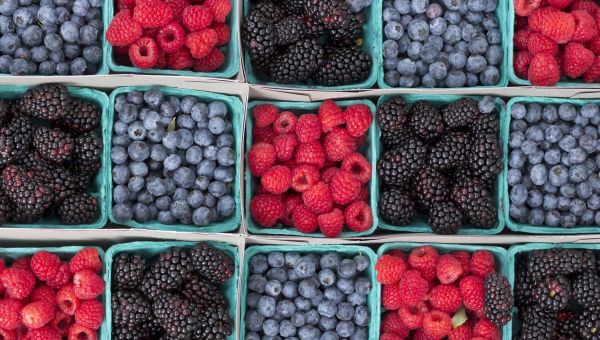 3 / 9
Carefree sweet: Berries
Berries tend to have moderate sugar contents, says Kakarala. They typically contain less than eight grams of sugar per half-cup and can easily be consumed as part of a mixed meal.
For example, start your day with oatmeal and blueberries. "The fiber in the oatmeal is going to make your body's sugar absorption slow down, keeping you full," she says. For a healthy dessert, top berries with a dollop of ricotta cheese and a sprinkle of graham cracker for "cheesecake in a glass."
How do berries compare against each other?
Blueberries: ½ cup contains 7 g sugar, 2 g fiber, 10 g carbs
Raspberries: ½ cup contains 3 g sugar, 4 g fiber, 7 g carbs
Blackberries: ½ cup contains 3.5 g sugar, 4 g fiber, 7 g carbs
Berries aren't just low-sugar; they're also loaded with nutrients like vitamins and antioxidants. Another perk? They're a brain-boosting food group. 4 / 9
Sugar bomb: Figs
A fig might seem like a tiny, innocent treat, but it contains a shocking amount of sugar. One large fig has about 10 grams of sugar, 2 grams of fiber and 12 grams of carbohydrate. By itself, a fig probably won't fill you up, but this savory snack combo might—plus, the protein and fiber combination can help keep your blood sugar steady. Here's how to make it:
Toast a piece of spelt bread. (Spelt is a whole grain that keeps its fiber-rich shell during manufacturing. It's light, nutty and supports healthy digestion.) Spread a thin layer of ricotta cheese or cream cheese on top. Then, slice your fig and layer the pieces over the cheese spread. For extra crunch, sprinkle on some chia or flax seeds. 5 / 9
Carefree sweets: Apples and pears
"Firm fruits like apples and pears are healthy options for people with diabetes because they tend to have a large amount of fiber and a moderate amount of sugar," says Kakarala.
A medium pear contains about 17 grams of sugar and 27 grams of carbohydrate. That might seem like a lot at first, but 5.5 grams of fiber help to buffer the sugar's absorption. Pears are also rich in essential vitamins and minerals, with 12 percent of a woman's daily vitamin C, about 10 percent for men. They have about 200 milligrams of potassium (about four to five percent of the recommended daily amount), as well, which is key to healthy blood pressure control.
Similarly, one medium apple has 19 grams of sugar and 25 grams of carbohydrate. That's balanced by 4.4 grams of fiber, along with 14 percent of a woman's daily vitamin C, 11 percent for men. They also contain 195 milligrams of heart-healthy potassium. 6 / 9
Sugar bomb: Bananas
Yes, bananas are surprisingly high in natural sugar—one large banana has about 17 grams of sugar and 31 grams of carbohydrate—but don't rush to cut this staple from your diet.
A large banana contains almost 500 milligrams of potassium, as well as 37 grams of magnesium, which your body needs in order to use potassium effectively. Potassium:
Helps your heart and muscles work
Keeps your blood pressure within a healthy range
Helps your kidneys filter urine more efficiently
Large bananas also offer about 20 percent of a woman's daily vitamin C (about 16 percent for men). They also contain 45 percent of the daily vitamin B-6 needed by adults under 50, which helps to regulate the brain chemicals that control your mood.
That said, a banana can raise your blood sugar quickly since it only has about 3.5 grams of fiber. Avoid the blood sugar spike by making a peanut butter sandwich on multigrain bread with sliced bananas instead of jelly. The combo will fill you up and slow the sugar's absorption.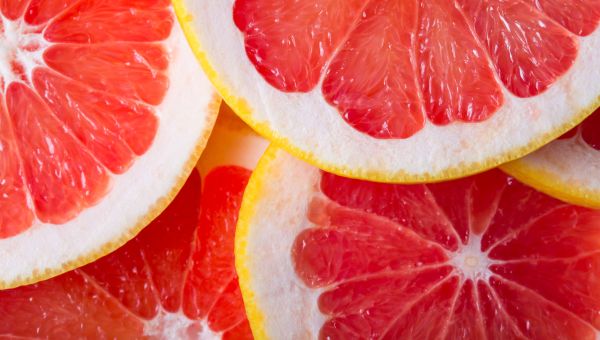 7 / 9
Carefree sweet: Grapefruit
Grapefruit's a carefree fruit because it's not just low in sugar with 8 grams per half-fruit (13 grams of carbohydrate), it's also packed with nutrients.
"Grapefruit is a great source of vitamin C," says Kakarala. "In fact, citrus fruits—and fruit in general—are important sources of micronutrients, such as vitamins." A half grapefruit alone contains:
Fourteen percent of a woman's daily vitamin A (11 percent for men), which supports healthy skin, vision and immunity
A whopping 64 percent of a woman's daily vitamin C (51 percent for men)
166 milligrams of potassium
However, it only contains 2 grams of fiber, so consider having grapefruit in the morning—it pairs well with fiber-rich breakfast foods like multigrain French toast, oatmeal and low-sugar granola. 8 / 9
Sugar bomb: Pomegranates
With over 23 grams of sugar and more than 33 grams of carbohydrate per cup of arils, or seeds, pomegranates are as sweet as their powerful flavor suggests. But tiny arils pack a whole lot more than just natural sugar.
Make sure you eat the whole aril—don't spit out the seed—since the seeds carry most of a pomegranate's 7 grams of fiber. Arils are also rich in antioxidants like polyphenols, which may help protect the body against inflammation.
To get the taste and nutrients of pomegranate, without the sugar bomb, sprinkle arils onto healthy, low-sugar foods. Since they're so tart and sweet, they can balance out savory dishes like salads, lunch wraps and chicken or fish entrees.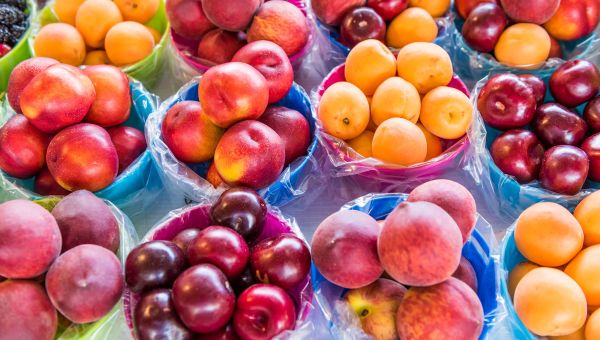 9 / 9
Carefree sweets: Peaches and plums
"People with diabetes should look at their lunch or dinner plate and, to keep their blood sugar well controlled, about half of it should be fruits and vegetables," says Kakarala. Peaches and plums pair well with summer salads and are easy, portable additions to your lunchbox. That means they can help you get in more fruit servings, while adding flavor and texture to your meals.
How do their sugar contents stack up?
Plum: One fruit has 7 grams of sugar, about 1 gram of fiber and 8 grams carbohydrate.
Peach: One medium fruit contains 13 grams of sugar, 2 grams fiber and 14 grams carbohydrate.
New to the low-sugar life? Get more tips and expert-approved recipes that actually taste amazing. Replay Slideshow