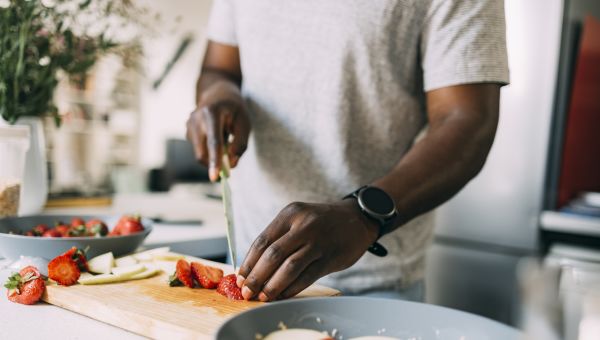 Start your day on the right track with these simple and delicious meals.
1 / 9
You've probably heard that breakfast is the most important meal of the day. There's good reason: Breakfast helps kick-start your metabolism, provides you with energy and helps improve your concentration. In fact, studies show that people who skip breakfast are more likely to gain weight than breakfast eaters. Instead of running out the door on an empty stomach, try one of our eight easy breakfasts. We've even got options if you prefer to go meatless or dairy-free.
Medically reviewed in October 2018. 2 / 9

Power Up with Protein

This simple breakfast -- a whole-wheat bagel with cream cheese and hard boiled egg -- is rich in whole grains, jam-packed with protein and under 200 calories.

Make It:
½ whole wheat, New York Style bagel (Lender's)
1 tbsp low-fat cream cheese
1 hard-boiled egg
6 oz black coffee or tea
Nutritional Info: Calories 198; fat 8g; carbohydrates 22g; protein 20g 3 / 9

Breakfast in Minutes

A scrambled egg with toast and fresh slices of mango takes just minutes to make, plus mango is rich in vitamins A, C and B6. This healthy breakfast has just 250 calories.

Make It:
1 large egg, scrambled
1 slice whole wheat bread, toasted (Pepperidge Farm)
1 tsp butter
½ cup fresh mango, sliced
6 oz black coffee or tea
Nutritional Info: Calories 258, fat 11g; carbohydrates 35g; protein 10g 4 / 9

Brain-Boosting Smoothie

At under 300 calories, this delicious protein and fruit smoothie is especially great for your heart and your brain, thanks to the omega-3 fatty acids in ground flaxseeds.

Make It:
1 scoop 100% whey protein powder
½ medium banana
½ tbsp plain almond butter
8 oz low-fat milk
1 tbsp flaxseed meal
Nutritional Info: Calories 299; fat 9g; carbohydrates 33g; protein 22g 5 / 9

Go Greek for Breakfast

At just under 250 calories, this vegetarian-friendly breakfast of Greek yogurt with granola and fresh raspberries is super high in protein and very low in fat. Plus, raspberries are rich in vitamin C and fiber.

Make It:
6 oz plain, low-fat Greek yogurt (Chobani)
¼ cup low-fat granola, without raisins (Kellogg's)
⅓ cup raspberries
6 oz black coffee or tea
Nutritional Info: Calories 246; fat 4g; carbohydrates 32g; protein 19g 6 / 9

Omelet Makeover

This under 300-calorie vegetarian omelet is stuffed with tons of good-for-you veggies.

Make It:
1 large egg
1 large egg white
2 tbsp onions, raw, diced
2 tbsp bell peppers, raw diced
2 medium mushrooms, chopped
½ cup spinach, raw, chopped
¼ cup mild cheddar cheese, shredded
2-second spray cooking spray
1 small grapefruit
6 oz black coffee or tea
Nutritional Info: Calories 298; fat 15g; carbohydrates 22g; protein 19g 7 / 9

Rethink Shredded Wheat

If you think shredded wheat has minimal appeal, think again. Shredded wheat cereal with soymilk is dairy-free (great for those who are lactose intolerant or vegan) and it's super high in whole grains and fiber, which can help prevent heart disease and keep you "regular."

Make It:
¼ cup shredded wheat, spoon size (Post)
8 oz low-fat plain soymilk
6 oz black coffee or tea
Nutritional Info: Calories 218; fat 4g; carbohydrates 44g; protein 8g 8 / 9

Guilt-Free Eggs and Bacon

At just over 250 calories, this lactose-free breakfast of an over-easy egg with turkey bacon, hashed browns and cantaloupe contains a whopping 21g of protein and less than 10g of fat.

Make It:
1 large egg
1-second spray of cooking spray
2 slices uncured turkey bacon (Applegate Farms)
1 patty hashed browns, shredded potato patties (Ore-Ida)
1 wedge cantaloupe melon
6 oz black coffee or tea
Nutritional Info: Calories 252; fat 9g; carbohydrates 26g; protein 21g 9 / 9

No-Hassle Waffles

This quick and easy 300-calorie breakfast of whole-wheat waffles with sliced strawberries can satisfy your sweet tooth -- and for many people following a lactose-free diet, a small amount of butter won't cause symptoms. (If it does, simply omit it). Adding strawberries provides a boost of vitamin C, folate and fiber.

Make It:
2 whole-wheat waffles (Nutri-Grain)
½ cup sliced strawberries
1 tsp butter
2 tbsp maple syrup
6 oz black coffee or tea
Nutritional Info: Calories 305; fat 7g; carbohydrates 60g; protein 6g
Continue Learning about Diet & Nutrition