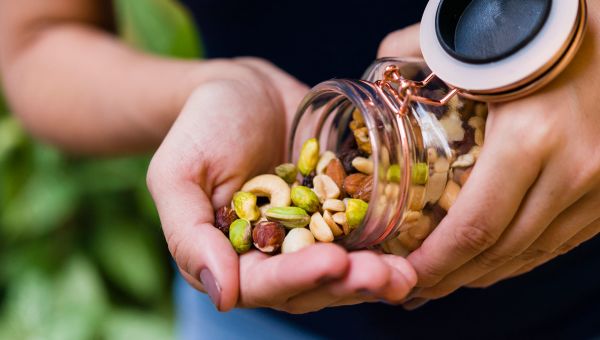 Nuts can lower cholesterol, improve your heart health—and even help you live longer.
1 / 6
Are nuts part of your daily fare? If you answered no, you may want to add them to your grocery list. Research shows that eating nuts can boost your health and help you live longer. For example, one 2019 study in the journal Antioxidants suggested that consuming nuts in moderation as part of a healthy diet may help lower your risk of many illnesses—such as cancer and cardiovascular disease—and may add a few years to your life.
Many nuts are good choices, but here are a few with health benefits best supported by research.
Medically reviewed in July 2020. 2 / 6

Walnuts

Walnuts are great for heart health. Studies show that diets high in walnuts may help lower both total cholesterol and low-density lipoprotein (LDL), a.k.a. "bad" cholesterol. Plus, walnuts are full of linolenic acid, which is linked to a reduced risk of coronary heart disease. One more benefit: Omega-3 fatty acids in walnuts help keep your brain in shape and may even lower the risk of Alzheimer's disease. 3 / 6

Almonds

Like walnuts, almonds may help lower both total cholesterol and LDL cholesterol. Almonds are also high in magnesium, which may help reduce blood pressure. Plus, almonds can boost your levels of vitamin E, an antioxidant that helps protect against heart disease and cell damage.

It's recommended that you eat 15 mg of vitamin E daily to get its heart-protecting benefits—and eating just 2 ounces of almonds daily can get you there. 4 / 6

Macadamia Nuts

These buttery-tasting nuts have lots of fiber, which can help you feel full for hours and protect your heart. There aren't a lot of studies on the health benefits of macadamia nuts specifically, but some research shows that tree nuts in general help improve blood lipid profiles. One 2015 study in the American Journal of Clinical Nutrition found that eating tree nuts, including macadamia nuts, is linked to lower total cholesterol, decreased LDL cholesterol and reduced triglycerides, a type of fat associated with higher heart disease risk.

Bonus: Compared to other nuts, a serving of macadamia nuts can add healthy monounsaturated fat to your diet. 5 / 6

Pistachios

Pistachios are good sources of protein, dietary fiber, thiamin, magnesium, vitamin B6, vitamin K and potassium, which helps regulate blood pressure and promotes a healthy heart. And because pistachios help you feel full, they may also play a part in weight management.

Another pistachio perk: They're associated with a lower risk of type 2 diabetes. That's partly because, among their many other benefits, pistachios have a lower glycemic index than other nuts. 6 / 6

Pecans

Pecans don't just make good holiday pies. Some research suggests that people who add pecans into their diet excrete more fat in their stools—which isn't very pleasant to think about, but it may explain why high-fat nuts tend not to be associated with weight gain.

Pecans are also high in minerals like magnesium, copper, zinc and manganese, which is involved with bone formation, immune response and metabolism. They contain lots of antioxidants, or substances that protect cells from damage, as well.

Sources:

ME Rusu, A Mocan, et al. "Health Benefits of Nut Consumption in Middle-Aged and Elderly Population." Antioxidants. 2019, 8(8), 302.
Serena Gordon. "Eat Nuts, Live Longer?" HealthDay. November 20, 2013.
Medical News Today. "Walnuts for cholesterol, heart health, and more."
Harvard Health Review. "Walnuts can lower cholesterol." January 2016.
SM Poulose, MG Miller, B Shukitt-Hale. "Role of walnuts in maintaining brain health with age." Journal of Nutrition. 2014 Apr;144(4 Suppl):561S-566S.
PR Newswire. "New UCLA Research Suggests Walnuts May Improve Memory." January 21, 2015.
L Arab, A Ang. "A Cross Sectional Study of the Association between Walnut Consumption and Cognitive Function among Adult US Populations Represented in NHANES." The Journal of Nutrition, Health & Aging. 2014. 10.1007/s12603-014-0569-2.
JF Liu, YH Liu, et al. "The effect of almonds on inflammation and oxidative stress in Chinese patients with type 2 diabetes mellitus: a randomized crossover-controlled feeding trial." European Journal of Nutrition. 2013 Apr;52(3):927-35.
LC Del Gobbo, MC Falk, et al. "Effects of tree nuts on blood lipids, apolipoproteins, and blood pressure: systematic review, meta-analysis, and dose-response of 61 controlled intervention trials." American Journal of Clinical Nutrition. 2015, Dec. 102(6), 1347–1356.
Ashleigh Frank. "The Many Health Benefits Of Macadamia Nuts." Everyday Health. November 15, 2017.
MedlinePlus. "Triglycerides," "Antioxidants."
Academy of Nutrition and Dietetics. "What Is Potassium?"
P Hernández-Alonso, M Bulló, J Salas-Salvadó. "Pistachios for Health: What Do We Know About This Multifaceted Nut?" Nutrition Today. 2016 May, 51(3), 133–138.
Diabetes Forecast. "Ah, Nuts! Pistachios May Lower Diabetes Risk in Those With Prediabetes." October 2014.
NIH Office of Dietary Supplements. "Manganese."
Continue Learning about Diet & Nutrition