An unhealthy diet is all too prevalent. And it doesn't descriminate. I work with people from all walks of life and see it first hand. But if a person is willing to make health their bottom line, commit to change and get an edible education, turning unhealthy into healthy is attainable. Small changes make big everyday differences.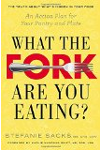 More About this Book
What the Fork Are You Eating?: An Action Plan for Your Pantry and Plate
It's labeled "natural," "grass-fed," or "free-roaming;" yet it might be anything but. It's time to find out what you're actually eating... When your groceries are labeled "low-fat," "sugar-free," and even "natural" and "antibiotic-free," it's easy to assume that you're making healthy choices. Yet even some of those seemingly wholesome offerings contain chemical preservatives, pesticides, and artificial flavors and coloring that negatively affect your health. In What the Fork Are You Eating?, a practical guide written by certified chef and nutritionist Stefanie Sacks, MS, CNS, CDN, we learn exactly what the most offensive ingredients in our food are and how we can remove (or at least minimize) them in our diets. Sacks gives us an aisle-by-aisle rundown of how to shop for healthier items and create simple, nutritious, and delicious meals, including fifty original recipes.  
Everyone thinks he or she eats a balanced diet, but it's usually not so. Forty percent of Americans don't eat fruit daily, even though four servings are recommended for each and every day. On average, Americans get less than half of the 25 to 30 grams of fiber they need every day. And 30 percent do not eat even one ounce of nuts a week.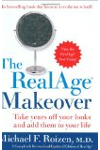 Continue Learning about Diet & Nutrition