A baby's first food means a baby's first poop, which means a parent's first diaper change. Use this step-by-step guide to make the first of, oh, 7 million changes you'll be making over the next few years.
Lay your baby flat and lift his ankles. For boys, put a wipe over the penis to avoid a spray.
Slide the diaper underneath so the top of the diaper is even with his bellybutton.
Bring the front of the diaper between his legs.
Unfasten the tabs on the side, point his penis down, and close up.
Make sure it's snug - diaper leaks can ruin your day, or at least your carpet.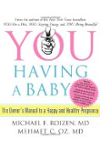 Continue Learning about Diapering & Digestion In Babies