Smart patients always ask when the results will likely be in, and they call the office that day. And the next day. And the next day. And so on if the test isn't back yet. You're not nagging (well, maybe a little, but it's justified). It's an extra reminder for the doctor to call the lab if it's running behind. If the lab was supposed to send you a postcard with the results, it may have been lost. And in a bustling office, records can sit for a day or two without us knowing it. Be a nudge.

When you're waiting for test results, don't think no news is good news. It's no news. Too many patients wait for the doctor to call them with results, or they figure that silence means everything's fine. It doesn't.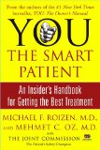 In my practice I tell patients that if they have'nt heard the results of their lab tests within a week than call my office. I believe that it is immportant for patients to take some ownership in their healthcare and if the lab or my office makes a mistake I want the patients to "help out" and alert us to the problem.
Once electronic medical records become a standard in all doctors offices than this process will be simple ( August of 2011 for me). The patient will be able to log in onto the office website and through a secure password protected site the patient can review her results as well as comments from me/ my assistant on how to proceede with the results of these tests.
Continue Learning about Diagnostic Procedures