Whole grains, legumes, lower-fat starches -- these foods are more nutritious than white bread and doughnuts. But for people with diabetes, these high-quality carbohydrates have an added importance: Whole grains (for the most part) and legumes elicit a less drastic rise in blood sugar than their refined-flour counterparts, and they're associated with a lower risk of heart disease. Lower-fat starches also do their part to stave off heart disease because they help you cut back on the artery-clogging saturated and trans fats found in so many fried and baked goods.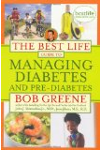 Primarily, good sources of carbohydrates for people with diabetes are vegetables, fruits, legumes and whole or minimally processed grains.

The carbohydrates with high glycemic loads (which you want to avoid) are processed foods and refined grains, including white rice, regular pasta, white bread and sugary low-fiber cereals. Avoid products that are loaded with sugar -- sodas, sweetened tea or coffee drinks, sweetened juices, dried fruits, desserts and candy. Some starchy vegetables also are high-glycemic foods, such as potatoes and corn.

The more fiber a food contains, the less quickly your blood sugar will react. That's why it's important to eat plenty of high-fiber unprocessed foods, such as vegetables, fruits, seeds, nuts and legumes.
Continue Learning about Diabetes