Primarily, good sources of carbohydrates for people with diabetes are vegetables, fruits, legumes and whole or minimally processed grains.

The carbohydrates with high glycemic loads (which you want to avoid) are processed foods and refined grains, including white rice, regular pasta, white bread and sugary low-fiber cereals. Avoid products that are loaded with sugar -- sodas, sweetened tea or coffee drinks, sweetened juices, dried fruits, desserts and candy. Some starchy vegetables also are high-glycemic foods, such as potatoes and corn.

The more fiber a food contains, the less quickly your blood sugar will react. That's why it's important to eat plenty of high-fiber unprocessed foods, such as vegetables, fruits, seeds, nuts and legumes.
People with diabetes need to be careful that they do not eat too many simple sugars, for example, candy, sweets or cookies. The reason for this is that they do not have any real nutritional value and are considered "empty" calories. They will also cause an almost immediate increase in your blood glucose levels. However, fresh fruits, fresh vegetables and whole grains, which are also carbohydrates, are very healthy, low in calories and filling. They are also high in fiber, which is good for your diabetes, as fiber-rich carbohydrates have a stabilizing effect on your blood glucose. So, not only are complex carbohydrates more satisfying, they're also good for your health, your waistline and your diabetes!

Whole fruits, starchy vegetables (peas, corn, potatoes), legumes (chick peas, black beans, lentils), whole grains (whole wheat pasta, brown rice, whole wheat bread), and nonfat or lowfat milk and yogurt are the best carb choices for people with diabetes. Sweets such as cookies, cake and candy, and fatty carbs, like potato chips, are best avoided or reserved for a special treat. Just remember that all carb foods turn into blood glucose, which means that they need to be "counted" in your eating plan.
Whole grains, legumes, lower-fat starches -- these foods are more nutritious than white bread and doughnuts. But for people with diabetes, these high-quality carbohydrates have an added importance: Whole grains (for the most part) and legumes elicit a less drastic rise in blood sugar than their refined-flour counterparts, and they're associated with a lower risk of heart disease. Lower-fat starches also do their part to stave off heart disease because they help you cut back on the artery-clogging saturated and trans fats found in so many fried and baked goods.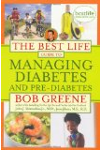 Continue Learning about Diabetes
Diabetes mellitus (MEL-ih-tus), often referred to as diabetes, is characterized by high blood glucose (sugar) levels that result from the body's inability to produce enough insulin and/or effectively utilize the insulin. Diabetes ...
is a serious, life-long condition and the sixth leading cause of death in the United States. Diabetes is a disorder of metabolism (the body's way of digesting food and converting it into energy). There are three forms of diabetes. Type 1 diabetes is an autoimmune disease that accounts for five- to 10-percent of all diagnosed cases of diabetes. Type 2 diabetes may account for 90- to 95-percent of all diagnosed cases. The third type of diabetes occurs in pregnancy and is referred to as gestational diabetes. Left untreated, gestational diabetes can cause health issues for pregnant women and their babies. People with diabetes can take preventive steps to control this disease and decrease the risk of further complications.
More