How long depression lasts differs from person to person. Some people have mild depression symptoms that are successfully treated. Others have more severe symptoms that don't respond as well to treatment and last for years. About half of all severely depressed teenagers struggle with depression as adults. But early treatment gives teens and other depressed people the best chance of successfully managing their mental disorders.
Without treatment, depression lasts from six months to several years for most people. Symptoms of mild depression may persist for longer periods of time. Most types of depression can be treated with medications, psychotherapy, and electroconvulsive therapy (ECT), if needed. A person may have four or five depressive episodes in a lifetime. Hospitalization is not usually necessary, unless the person causes self-harm or is suicidal. Episodes of severe psychotic depression also require hospitalization.
Clinical depression lasts a long time. If you are like most people who become depressed, you have done your best to overcome your depression, only to notice that you are quickly pulled back into it again. The typical bout of major depression, if not treated, will last from six to fifteen months. After this prolonged period of suffering, about 75 percent of people will gradually come out of their depression (even without treatment); for the other 25 percent, it can hang on for months or years. Twenty percent of those who suffer with a severe depressive episode will, thankfully, never have another episode. But 80 percent of those with depression will re-experience depressive episodes or slip into chronic depression unless they receive appropriate treatment.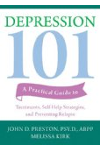 Depression is a mood disorder that has a range of trajectories. So, some individuals will recover fully from their depression, while others may have to tend to manage their symptoms throughout their life. And there are experiences in between where depression goes into remission, or can relapse. The important issue here is to know your own biology and the biography and not measure your depressive experience against that of others. Read and become well versed in all aspects of depression, and work with knowledgeable professionals so you can find what's best for you.
Continue Learning about Depression