One of the most painful and disabling symptoms of depression is the feeling of worthlessness. This can take the form of feeling that you can never do anything right, that you are not loved by anyone, or that there is something fundamentally wrong with you. This symptom may be manifest as an endless rumination about your worth or an ongoing search for some outside source who will tell you that you are worthy.

The feelings of worthlessness can be a gift -- as a message about how you are spending your time and as an incentive to work toward greater self-acceptance of your limitations. However, the symptom of worthlessness can take on a form that does not offer a gift and can undermine the possibilities of finding the gift in these feelings. We see this form in the person who feels that his essential being is worthless and is preoccupied with finding some external person, panel of judges, or accomplishment that will redeem him from this condition. If you have experienced this form of worthlessness, know that nothing outside of yourself will ever end the search for your worth. In addition, no matter how clear and persuasive an external person may be in his or her proclamation of your worth, if you feel essentially worthless you will find some way to dismiss even the most convincing proclamations.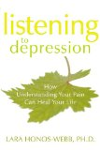 Continue Learning about Depression Symptoms

Depression is more than just a low mood. Symptoms of depression include chronic sad feelings lasting up to two weeks, lack of interest in activities normally enjoyed, sleep disruption, overeating or appetite loss, feelings of guil...
t or worthlessness and a preoccupation with death/suicide. Depression symptoms also differ in men and women; the onset may follow highly stressful events such as physical and emotional trauma. Men tend to be more irritable and act out while women often cry or sleep more.
More