For the most part, people with dentures can still taste foods the same way they did before they got dentures since the majority of taste comes from taste buds on the tongue. In fact, people may be able to eat a wider variety of foods, which can be beneficial for health reasons and for enjoyment! In some cases, people who wear complete dentures may have a slight reduction in taste. Also, the lower denture may interfere with the tongue. Talk to your dentist if you're concerned about your dentures interfering with your sense of taste.
Continue Learning about Dentures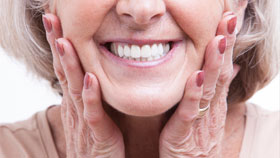 Dentures are false teeth used to replace natural teeth. There are two types of dentures: complete dentures, which can be used for the upper or lower jaw (or both if needed), and partial dentures, which replace only some teeth.