You should still see your dentist twice a year for a check-up when you have implant retained dentures. If you feel the fit of the denture has changed, it could be that an attachment has loosened or come out and should be evaluated by your dentist. A sore spot on the gum from the denture should also by checked out by your dentist.
Continue Learning about Dentures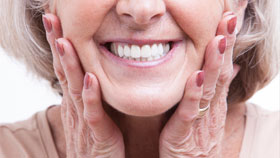 Dentures are false teeth used to replace natural teeth. There are two types of dentures: complete dentures, which can be used for the upper or lower jaw (or both if needed), and partial dentures, which replace only some teeth.