After having a tooth filled with a silver filling, you will need to be careful eating while still numb. It is very easy to bite your lip, check, and tongue. You will also need to avoid hard foods for the first 24 hours. The silver filling or amalgam takes 24 hours to harden, and is fragile during this time. You should maintain good brushing and flossing habits and see your dentist on a regular basis.
After getting a silver dental filling be sure to brush your teeth twice a day and floss daily to keep your teeth clean. Since silver fillings are made from metal which conducts temperature well, it may cause the tooth with the filling to expand and contract when you drink hot or cold liquids, which can cause the tooth to crack. Visit your dentist regularly for examinations and cleanings, during which the dentist can check the filling to see if it's become worn or has developed any cracks.
Continue Learning about Dentures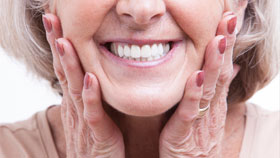 Dentures are false teeth used to replace natural teeth. There are two types of dentures: complete dentures, which can be used for the upper or lower jaw (or both if needed), and partial dentures, which replace only some teeth.