Implant retained dentures are most commonly used on the lower jaw, where there is not enough jawbone to keep the denture comfortably in place. Implants can also be used in the upper jaw to support a denture and this can allow the denture to have the middle removed (the part that covers the palate). This type of denture is more comfortable for the patient. I particularly like the locator abutment to attach the implant to the denture.
Continue Learning about Dentures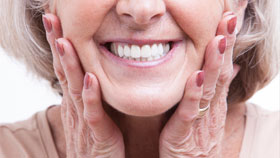 Dentures are false teeth used to replace natural teeth. There are two types of dentures: complete dentures, which can be used for the upper or lower jaw (or both if needed), and partial dentures, which replace only some teeth.