This is actually a question that involves several other questions that I have answered on sharecare.com

Follow the directions of the dentist who has done the extractions and the one who as performed the services to make and deliver your immediate denture. It is important to leave the denture in place in the mouth for the first 24 to 48 hrs. The denture will help to control the bleeding and usually helps to minimize post-op extraction discomfort and swelling. If the denture is taken out of the mouth too soon and for too long, the tissue may swell, and the denture may not be able to be reinserted until the swelling decreases. Obviously, this significantly defeats the purpose of the immediate denture.

You may feel that the bite needs adjustment or that there are pressure spots that need to be relieved. These problems will be addressed at the post-op visit with your dentist, usually within the first 24-48 hours after extractions and denture delivery. The post-delivery discomfort and uneven bite may take time and/or several visits to resolve. Also, as with any denture there is a period of adapting to the new denture and learning to wear, eat and speak with it. You were not born to wear a denture; it is unfortunate that it is needed and time is needed to get used to it.

Also, since the front teeth usually cannot be evaluated in the mouth prior to extractions and immediate denture delivery, you may find that you are not completely delighted with the appearance. This may be the situation even when it is a major improvement over the pre-immediate denture appearance. In such situations you may desire to have a second denture made after healing is complete in order to fine tune the esthetics. This would also allow you to have a spare denture, something that is very nice to have.

Continue Learning about Dentures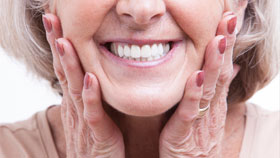 Dentures are false teeth used to replace natural teeth. There are two types of dentures: complete dentures, which can be used for the upper or lower jaw (or both if needed), and partial dentures, which replace only some teeth.