When a patient has multiple teeth in an arch which have one or all of the following problems:
advanced periodontal disease with hopeless prognosis,
restoration (fillings, crowns, etc.) not possible
extensive treatment necessary, which the patient is not prepared to accept or undergo
Then a denture may be one of the only acceptable options for that patient. If this patient elects to maintain the front teeth until they can be immediately replaced, then an immediate denture allows the front teeth to be removed on the same day that the immediate denture is delivered. In this way the patient can maintain what he or she feels is an acceptable appearance until the teeth can be extracted and the immediate is inserted.
Immediate dentures treat people with very loose teeth caused by advanced gum disease and those who have teeth that are so broken down that they can't be saved. They are also an option for people who only have a few remaining front teeth and would benefit from a full denture. Immediate dentures are made so that the person receiving them never has to leave the dental office without having teeth in their mouth.
Continue Learning about Dentures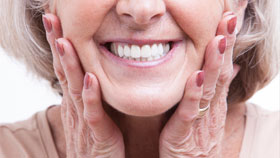 Dentures are false teeth used to replace natural teeth. There are two types of dentures: complete dentures, which can be used for the upper or lower jaw (or both if needed), and partial dentures, which replace only some teeth.