A general dentist who performs denture services will also usually perform immediate denture services. Also, a prosthodontist, a specialist in replacement of teeth, also performs denture services and immediate denture services.

The general dentist may also do the necessary extractions or the patient may be referred to an oral surgeon. In many circumstances the prosthodontist would refer the patient to the oral surgeon for the extractions.

It is important to find a dentist who will take the necessary time to understand and care for your esthetic needs and concerns in arranging the teeth for the immediate denture. This is especially important with immediate placement because often the patient is not able to evaluate the front teeth in their mouth prior to the extraction of the remaining natural teeth and delivery of the denture.

Most General Dentists who do dentures can make immediate dentures. (Some General Dentists choose not to make dentures in their practices.)

Prosthodontists are dental specialists who have received an additional two to three years of training in replacing missing teeth, especially for complex cases. They can also construct immediate dentures.
Immediate dentures can be made by a general dentist or by a prosthodontist, a dentist who specializes in dentures, bridges, and other methods of restoring your teeth.

After you have your remaining teeth extracted, a dentist or oral surgeon will put your immediate dentures in place.
Continue Learning about Dentures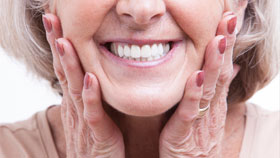 Dentures are false teeth used to replace natural teeth. There are two types of dentures: complete dentures, which can be used for the upper or lower jaw (or both if needed), and partial dentures, which replace only some teeth.