You can have regular dentures, without the implants. If your dentist has recommended implants, it may be because he or she does not think you have enough bone in your jaw to support the denture. One option could be to get regular dentures and see how you do with them. If you have difficulty using them, the dentist may be able to convert those dentures into implant retained dentures in the future.
Continue Learning about Dentures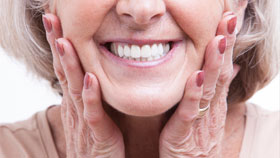 Dentures are false teeth used to replace natural teeth. There are two types of dentures: complete dentures, which can be used for the upper or lower jaw (or both if needed), and partial dentures, which replace only some teeth.