Generally, it is not desirable to wear dentures continuously. This allows gum tissues to rest and promotes oral health.

Your dentist will provide instructions about how long dentures should be kept in place. During the first few days, you may be advised to wear them most of the time, including while you sleep. After the initial adjustment period, you may be instructed to remove the dentures before going to bed.
For most removable dentures, your dentist will recommend that you take your dentures out before going to bed. Storing your dentures in water or a dental cleansing solution overnight will give your gums a rest and will also help clean your dentures. However, during the first week or so your dentist may advise you to leave your dentures in overnight so that your mouth can adjust to them. Ask your dentist for specific advice about how long to wear your dentures, especially when you first get them.
Continue Learning about Dentures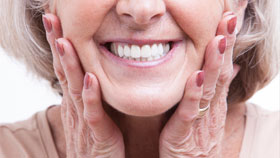 Dentures are false teeth used to replace natural teeth. There are two types of dentures: complete dentures, which can be used for the upper or lower jaw (or both if needed), and partial dentures, which replace only some teeth.