From a personal standpoint, you have to accept the fact that you need the removal of your remaining teeth and that you are ready willing able to learn to function with a denture.

Your preparation would involve visiting your dentist for a treatment plan, arranging a time frame for treatment, understanding what to expect and making firm financial arrangements. It is important that you are comfortable that your dentist can meet your esthetic needs in fabrication of the denture and that he or she is experienced in the procedure.

If you have systemic health issues or concerns, you should check with your physician regarding your readiness for the extractions and the healing process. The dentist may also want to consult with your doctor to be sure such things as your blood pressure and sugar are controlled, as well as any possible bleeding issues.

Often the posterior teeth are extracted first to allow healing of the ridges in the back supporting areas. Then after a period of healing, the impressions are taken, the denture is completed and remaining extractions are performed. Now after all this preparation, the denture is delivered.
In most cases, the dentist will remove your back teeth and do a series of fittings before having the dentures made and removing the remaining front teeth. You can talk to people who already have full dentures and ask them about how they adjusted to the experience, or ask your dentist what he or she thinks. Your dentist may have some good insight about how you will adjust both physically and emotionally to your treatment.
Continue Learning about Dentures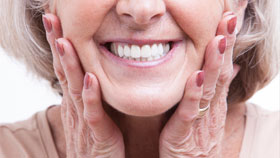 Dentures are false teeth used to replace natural teeth. There are two types of dentures: complete dentures, which can be used for the upper or lower jaw (or both if needed), and partial dentures, which replace only some teeth.