First it is essential to have a complete oral examination and radiographs taken to evaluate your mouth, teeth, bite and jaws. There may be many options available to treat and maintain your teeth for many years. The options may include fillings, crowns, gum treatment, root canal treatment, implant restorations, removable partial dentures and bridges.

When a patient has multiple teeth in an arch which have advanced periodontal disease with hopeless prognosis, are no longer restorable (fixable) and/or require extensive treatment which the patient is not prepared to accept or undergo, then a denture may be one of the only acceptable options for that patient. If this patient elects to maintain the front teeth until they can be immediately replaced, then an immediate denture allows the front teeth to be removed on the same day that the immediate denture is delivered.

In this way the patient can maintain what he or she feels is an acceptable appearance until the teeth can be extracted and the immediate is inserted.
Continue Learning about Dentures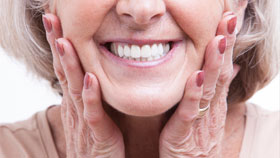 Dentures are false teeth used to replace natural teeth. There are two types of dentures: complete dentures, which can be used for the upper or lower jaw (or both if needed), and partial dentures, which replace only some teeth.