Conventional dentures are placed after gums have healed following necessary extractions and/or to replace an existing denture.

Immediate dentures are delivered/inserted immediately following the removal of remaining natural teeth in an arch (jaw). The immediate denture can help to control post-op bleeding and to shape the healing supporting tissue in the arch. In this way the patient leaves the office with teeth, even though remaining teeth have just been removed.

With an immediate denture there is the potential need for more adjustments than with a non-immediate denture due to the circumstances under which impressions are made, in addition to how and when the denture is inserted. Also, since existing teeth (often the front teeth) remain in the mouth prior to denture delivery, the patient cannot see the proposed denture set-up in the mouth until delivery of the prosthesis. The patient can, however, evaluate the appearance on the articulator, the lab instrument that replicated the relationship of the patient's jaws. Under the circumstances the patient may wish to have changes made for esthetics, and, therefore, a second denture may be desired after healing of the tissue.

After the tissue under the denture heals, it is often necessary to reline the immediate denture so that it is well adapted to the healed ridge. This may possibly require the patient to be without the denture for a day or two, depending on necessary lab time.

With immediate dentures, the denture wearer does not have to be without teeth during the healing period. An immediate complete denture is inserted as soon as the remaining teeth are removed.

A conventional full denture is made and placed in the patient's mouth after the remaining teeth are removed and tissues have healed which may take several months.
Immediate dentures are made prior to having teeth extracted, and are designed to be inserted the same day as the oral surgery is performed. The technique to make them differs slightly, and is more complicated, because the presence of a patient's existing teeth can limit the trying and evaluation of the dentures while they are being made. Also certain accommodation needs to be allowed for the planned surgery, including changes to the oral tissues and interim swelling. The range of materials to make the dentures and immediate dentures, and the general processing techniques in the dental laboratory, are the same.
Continue Learning about Dentures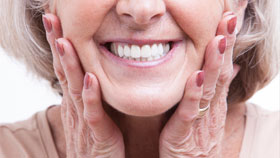 Dentures are false teeth used to replace natural teeth. There are two types of dentures: complete dentures, which can be used for the upper or lower jaw (or both if needed), and partial dentures, which replace only some teeth.