Fees for any dental service may vary depending on where you live or where your dentist is located (area of country, urban, suburban, center of town, etc.). In addition there are always going to be a range of fees for the same service. This may depend on the experience of the dental practitioner, materials used, esthetic demands of the procedure and complexity of the treatment or procedure.

You may be able to find average fees for dental treatment in your area, but as with most other things just because a product or service may be the cheapest, does not necessarily mean it is the best. Also, you must feel confident in the dentist providing your care.
Continue Learning about Dentures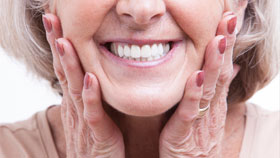 Dentures are false teeth used to replace natural teeth. There are two types of dentures: complete dentures, which can be used for the upper or lower jaw (or both if needed), and partial dentures, which replace only some teeth.