With ANY type of filling, there can be sensitivity or even nerve damage.

Taking an NSAID is usually effective in dealing with pain.

If you feel any kind of discomfort (your bite doesn't feel right, temperature sensitivity) you should call your dentist to discuss your symptoms.

Of course, great oral hygiene is the best way to care for fillings and teeth.
Continue Learning about Dentures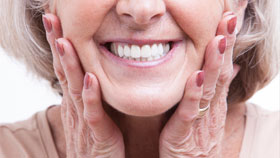 Dentures are false teeth used to replace natural teeth. There are two types of dentures: complete dentures, which can be used for the upper or lower jaw (or both if needed), and partial dentures, which replace only some teeth.