It depends what you are considering complications. Cu-sil dentures are often considered transitional since the teeth involved are frequently periodontally involved, mobile and questionable. These teeth may ultimately become hopeless and require extraction, at which time a tooth can be added to your denture. This, of course, does not make the denture more secure and brings it closer to being converted to a full denture, hence the term "transitional".

It is important to follow all instructions provided by the dentist and keep follow-up appointments, even it you do not feel a problem exists. It is much better to make adjustments before an area bothers you.

As reviewed in my other answers on this subject, special care and attention is needed with the Cu-sil material to minimize problems and extend longevity. Please check out the other answers for more information on Cu-sil dentures.

Continue Learning about Dentures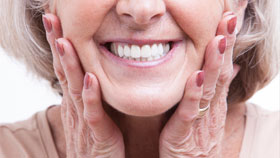 Dentures are false teeth used to replace natural teeth. There are two types of dentures: complete dentures, which can be used for the upper or lower jaw (or both if needed), and partial dentures, which replace only some teeth.