Dentures are very delicate and may break or crack if dropped even a few inches. Also, dentures may lose their shape if they are allowed to dry out.

See your dentist if your dentures break, crack, chip, or if one of the teeth becomes loose. A dentist can often make the necessary adjustments or repairs on the same day. A person who lacks the proper training will not be able to reconstruct the denture. This can cause greater damage to the denture and may cause problems in your mouth.
A clinical consultation with a dentist is needed. A cracked or warped denture can sometimes be fixed. However, sometimes a new denture will have to be fabricated.
A cracked denture can sometimes be repaired by your dentist or by a dental laboratory. A warped denture will usually need to be remade.
If your dentures become cracked, warped, broken, or damaged in any way, talk to your dentist immediately. Your dentist should be able to fix your dentures and return them to you relatively quickly. You shouldn't try to fix your own dentures because you may actually end up causing more damage. Also, don't continue wearing dentures that are warped or cracked, since this may irritate your gums or further damage your dentures.
Continue Learning about Dentures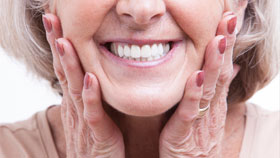 Dentures are false teeth used to replace natural teeth. There are two types of dentures: complete dentures, which can be used for the upper or lower jaw (or both if needed), and partial dentures, which replace only some teeth.