Most dental insurance will cover a portion of the denture itself, and some may cover the attachments to the implants. Have your dental office call your insurance company to check it out. Your dental office can also send a predetermination to your insurance company to see what your out-of-pocket expense will be.
Continue Learning about Dentures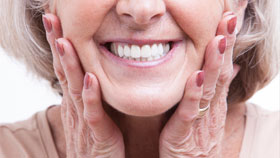 Dentures are false teeth used to replace natural teeth. There are two types of dentures: complete dentures, which can be used for the upper or lower jaw (or both if needed), and partial dentures, which replace only some teeth.