Yes, if your dental condition is so poor that you have difficulty eating. You need to work closely with your dentist and obstetrician on the how best to proceed. The second trimester is generally considered the safest time to receive dental treatment.
Continue Learning about Dentures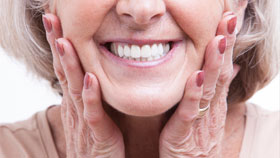 Dentures are false teeth used to replace natural teeth. There are two types of dentures: complete dentures, which can be used for the upper or lower jaw (or both if needed), and partial dentures, which replace only some teeth.