Dental veneers are thin shell coverings for the surface of your teeth that are often a shade or two whiter than your natural teeth. They can be made from porcelain or other tooth-colored material. Since veneers are specifically designed and bonded for your own teeth, they can improve the shape of your teeth as well as their alignment.
Veneers are a very simple and quick way to get the teeth you want without the pain and without the wait. The results are much more predictable than with traditional braces and you can have teeth that are a shade or two whiter than the teeth you have. Be sure to see a prosthodontist or a cosmetic dentist since these treatments are very technique-dependent and performing the procedure is an art. Once you your new smile, your face will light up with confidence and that will enhance everything you're doing to rejuvenate your skin.
Continue Learning about Dental Veneers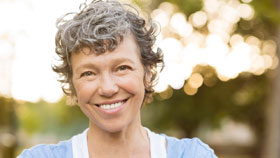 A veneer is a very thin porcelain shell that is bonded to your tooth to dramatically improve its appearance. Placed on top of your teeth, veneers can cover gaps in your teeth as well as stains or badly shaped or crooked teeth.