Denture adhesive should be applied in minimal amounts as directed on the product label.

If your ridges have changed due to resorption and you find that you are using excessive amounts of adhesive, you should have your dentures and mouth evaluated by your dentist. It is an indication that you may need a reline of your denture or maybe even a new denture. If the ridges have resorbed, inflammation can occur and further affect the fit of your denture.

If your dentures fit well and you place too much adhesive in them, the dentures will not seat properly in your mouth, and your bite will be incorrect.

To use a powdered denture adhesive:
Clean and rinse your denture.
Shake a layer of the powder on the denture.
Place the denture in your mouth.
Food and fluids can loosen lower dentures more easily than top dentures. This may be a good reason to use a paste adhesive for the lower denture.
To use a paste denture adhesive:
Apply to a dry or preferably wet denture.
Avoid placing adhesive close to the denture borders. If the adhesive oozes, use less of the product.
For dentures on the upper jaw, apply three short strips of adhesive, or a series of small dots along the ridge area and one down the center.
For dentures on the lower jaw, apply three short strips of adhesive, or a series of small dots in the center of the ridge area.
Continue Learning about Oral Health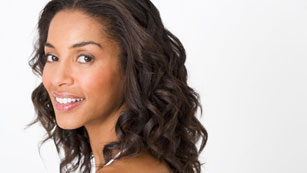 For good oral health, you need fluoride toothpaste, a soft-bristled toothbrush, floss, and an antiseptic or anti-microbial mouth rinse. The American Dental Association recommends brushing teeth at least twice daily with short back...
-and-forth motions, not vigorous scrubbing.
More