Subperiosteal implants are dental implants made out of a metal framework. This metal frame is attached under your gum tissue but above your jawbone. Protruding from the metal frame of the subperiosteal implant are small metal posts. These are used as the anchors for the replacement teeth that your oral surgeon will attach to the implant. This and other types of implants may be a good choice if you are missing more than one tooth in the same area of your mouth.
A subperiosteal implant is placed onto the bone rather than into the bone, similar to a saddle. This type of implant is used most often to cover a large surface area, such as a completely edentulous mandible where there has been a severe amount of bone resorption and not enough bone to support endosteal implants. Although most of the implant structure is under the gum tissue, posts or bars remain exposed above the gums. The superstructure (denture or partial) attaches to these posts.
Continue Learning about Dental Implant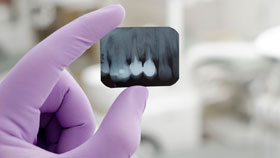 Dental implants are used where there are one or more missing teeth. Implants are posts that are surgically placed in the upper or lower jaw, where they may also function as a sturdy anchor for dentures. Because they fuse with your ...
jawbone, you will still have a certain amount of sensation when you chew and talk, even though you have an artificial tooth.
More