What is a composite resin dental filling?
A composite resin dental filling is a tooth-colored product made from a mixture of acrylic resin and powdered particles similar to glass. This filling is used to treat a cavity, which is tooth decay. To get rid of the decay, the dentist cleans out the damaged portion of the tooth and puts in a filling to cover the area. There are other types of fillings as well, but one benefit of a composite resin filling is that it matches your tooth color.

Composite resins are tooth-colored, plastic materials (made of glass and resin) that are used both as fillings and to repair defects in the teeth. Because they are tooth-colored, it is difficult to distinguish them from natural teeth. Composites are often used on the front teeth where a natural appearance is important. They can be used on the back teeth as well depending on the location and extent of the tooth decay. Composite resins are usually more costly than amalgam fillings.
A composite resin dental filling is made from a tooth-colored, plastic material that is generally referred to as bonding material. Watch dental expert Gerry Curatola, DDS, describe this type of dental filling and what you should know about it.
What is a composite resin dental filling?
Continue Learning about Dental Fillings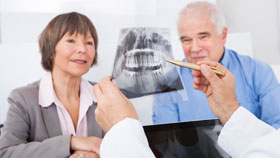 To stop a cavity from expanding and spreading decay, it is necessary to fill the hole with a filling. A dental filling, which may be placed with a variety of materials, such as silver, gold or resin, restores a fractured, chipped, ...
decayed and sometimes worn tooth.
More