Interesting question. A broken tooth may hurt, but then again it may not. Just because it does not hurt does not mean that treatment is not indicated or absolutely necessary. If it is not treated, it will eventually have to be treated, and by that time extraction may be necessary. As the saying goes, "Don't wait till it hurts."

If possible, you should contact the dentist as soon as possible to arrange for an examination to diagnose the problem and cause and determine the appropriate treatment.

Significant delay of weeks, months and years could certainly jeopardize the tooth and even your health. The tooth may decay, abscess, fracture more and the gum may grow over the edges of the tooth, further increasing the challenge of restoring the tooth.

Even better than being in this situation is to have regular examinations and care. Your dentist may be able to tell you about teeth that are weak and require more secure restorations to help avoid fracture.
Having a broken tooth may or may not hurt. It all depends on how severe the fracture is. For example, a minor fracture in the tooth may not hurt at all, while a more severe break can be very painful. If the nerve inside the tooth is damaged, it can be particularly painful, especially when the tooth is exposed to air or hot or cold food and drink.

Pain from a broken tooth may come and go. You may experience pain when chewing, since this puts pressure on the injured area. Whether your tooth hurts all of the time, some of the time, or not at all, it's still important to see a dentist. Only he or she can determine if there is nerve damage, and what type of treatment will be required.
Continue Learning about Dental Emergency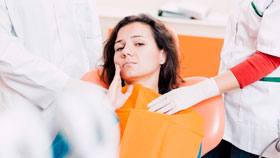 Dental emergencies vary, but they usually involve a broken tooth or some type of severe pain in your mouth. If you think you have a dental emergency, you should contact your dentist immediately. The sooner you take action, the mor...
e likely you are to keep the teeth involved.
More