Any qualified dentist should be able to effectively treat most dental emergencies like pain from or trauma to the teeth and mouth. If available, a pediatric dentist would be ideal to treat the child in distress since these dental specialists limit their practices to children and adolescents. They have considerable experience with children of all ages and a wide range of their dental problems. In addition, they are trained to manage healthy children who are fearful, as well as those with special needs. They use wide variety of behavioral and pharmacological management techniques in coping with these situations.
A pediatric dentist specializes in treating dental problems in children and can treat dental emergencies, as well. If a pediatric dentist is not available, a general dentist is trained to handle emergencies and should have the same equipment as a pediatric dentist.
Continue Learning about Dental Emergency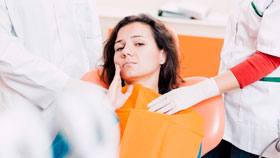 Dental emergencies vary, but they usually involve a broken tooth or some type of severe pain in your mouth. If you think you have a dental emergency, you should contact your dentist immediately. The sooner you take action, the mor...
e likely you are to keep the teeth involved.
More