A tooth that is cracked can be painful. A crack can also lead to disease of the tooth. How do you know if you have a cracked tooth? Look for these signs:
You have sharp pain when biting down that quickly disappears.
You have pain that comes and goes, but does not hurt all the time.
You feel pain when eating or drinking.
You may have no pain at all.
It can be hard to tell if you have a cracked tooth. If you have pain, you may not even be able to tell which tooth hurts or whether the pain is from an upper or lower tooth.
Continue Learning about Dental Emergency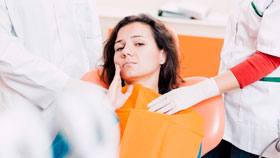 Dental emergencies vary, but they usually involve a broken tooth or some type of severe pain in your mouth. If you think you have a dental emergency, you should contact your dentist immediately. The sooner you take action, the mor...
e likely you are to keep the teeth involved.
More