There are risks and complications with all dental procedures. Although rare, you could have an allergic reaction to the medicines used to numb your tooth and the materials used in making a crown. The preparation of the tooth for a crown is traumatic to the nerve of the tooth. It generally takes about six weeks for the nerve of the tooth to heal. During this time, your tooth may be sensitive. Sometimes, the nerve of the tooth does not heal, and the tooth abscesses. The treatment for an abscessed tooth is a root canal. If you have questions about the risks involved with getting a crown, you should discuss this with your dentist.
The risks associated with dental crown placement include risks that can happen with any dental procedure as well as risks that are specific to having a crown. These include:
infection of the gums or mouth
bleeding around the site of the crown placement
reactions to anesthesia used during the procedure
side effects of pain medicines used to control the pain after crown placement
tooth decay that develops under the crown if the crown is not fitted correctly to your tooth
needing the crown replaced because it chips, does not fit well, or has fallen out
Talk with your dentist about these risks as well as steps you can take to make your crown placement as risk-free as possible.
Continue Learning about Dental Crown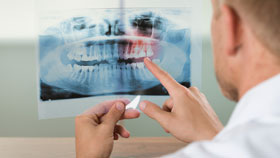 A dental crown is a covering that fits over your existing tooth to make it look and feel like a normal tooth. Crowns are often placed when a tooth is cracked or has lost its structure so that it can't hold a filling.