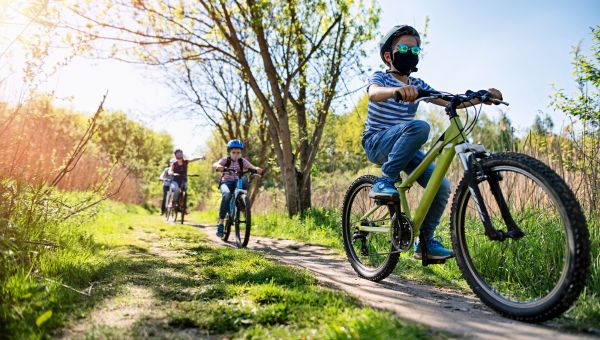 As COVID-19 cases rise, many Americans are finding themselves back indoors. But there are still safe ways to enjoy the outdoors.
Updated on July 28, 2020 at 2:00 PM EDT.
With summer in full swing but new cases of COVID-19 resurging in many parts of the country, Americans are looking for safe ways to stay active outdoors. If you're going stir crazy in the heat but the beach or swimming pool aren't options for you, here are some other ways to get outside to enjoy the fresh air and sunshine.
Know before you go
Being outside is preferable to spending time indoors with people outside your family. Airflow is better outdoors, which means that SARS-CoV-2—the coronavirus that causes COVID-19—can disperse more effectively.
Just remember that the closer you are to other people and the longer you linger, the higher the risk of infection. So, the best activities are those that enable you to spread out and create a buffer between yourself and others, according to the Centers for Disease Control and Prevention (CDC).
Your planning should factor in your personal risk factors and those of the people you live with. Older people are at higher risk for serious illness from COVID-19, and underlying conditions—such as heart disease, diabetes, obesity or lung disease—can make COVID-19 more dangerous.
Community risk matters, too. The more widespread the disease is where you live, the higher the risk of getting sick if you come into contact with others. Local infection rates may prompt authorities to tighten restrictions on public facilities, so check with your health and parks departments to make sure the areas you plan to visit are still open.
With these notes in mind, here are some relatively low-risk activities to try this season and into the fall.
Pack a picnic
A safer alternative to dining at restaurants, picnics offer an opportunity to enjoy a meal with friends and family in a less stressful environment. If you decide to meet folks outside of your social bubble, pack your own food and supplies to minimize the need to share items. Take advantage of the space that nature allows and keep blankets at least 6 feet apart.
Don't forget standard food safety, either. That means keeping cool foods cold and cooked foods hot to reduce the food poisoning risk. For cold foods, make sure your cooler is fully insulated and packed with ice; wrap hot foods carefully and keep them in an insulated container until serving. Be sure to have hand sanitizer available to ensure clean hands before and after eating if bathroom facilities with running water aren't available.
Try cherry picking
A variety of berries and other fruits and veggies are ripe for picking through summer and into the fall. Many "u-pick" farms have reopened with COVID-19 guidelines. Before heading to a field near you, research the farm's rules. You may need to make a reservation and observe specific social distancing rules, such as staying in an assigned row as you work. And although it's tempting to pop fresh berries straight from the stem, avoid eating while picking. Touching your mouth and then to plants that others are harvesting could expose you to COVID-19 and other potentially harmful germs.
Hit the trails
With many gyms closed and exercise routines disrupted, finding ways to move can be harder. But it's as important as ever to stay active. An aerobic workout that's easy on the joints, biking combines exercise with family time. In addition to keeping your distance from others and wearing a face covering around crowded spots on the trail, keep usual safe biking practices in mind and always wear a helmet.
If biking isn't your speed, hit the trail on foot. Hiking offers a variety of health benefits, from strengthening muscles to improving cardiovascular fitness, and spending time in nature is known to ease stress levels and boost mood. Trekking lends itself well to social distancing, too, since you can always take a different route if certain stretches become too congested.
Camp out
The accessibility of parks will depend on the latest guidelines in your area, but in many states, camping is a possibility during the pandemic.
First, you'll want to plan ahead and buy items you might need before you head out, rather than saving your purchases for campgrounds or local stores. This will help protect you, other visitors and staff by limiting person-to-person interactions. Come prepared with maps and other resources that kiosks or ranger stations typically provide, as these may not be open this season.
In the same way, be as self-sufficient as possible with supplies to limit contact with other campers. Bring a stock of hand sanitizer, soap and towels, along with your full slate of camping gear. Consider showering only when really necessary to limit visits to the public washroom.
Finally, set up your campsite with maximum space between nearby campers and be mindful of distance when using bathrooms, pay stations and other areas that can become crowded. Bring disinfectant wipes to clean commonly used surfaces in shared areas.
Don't have the gear or the time for a full-on camping trip? Set up a tent in your backyard for a fun overnight experience closer to home.
Catch a show under the stars
From puzzles to board games, old school pastimes have resurfaced in the COVID-19 era. Drive-in movies are back, too, popping up across the country and offering a way to get out of the house to enjoy a big screen experience while practicing social distancing. Drive-in opportunities will get a boost in August, when Walmart plans to begin converting select store parking lots across the country into film venues. Many A-list music concerts and performances are shifting to the drive-in model, too.
If you choose to attend a drive-in, bring a mask in case you have to interact with others and pack your own snacks to avoid leaving the car. Having a stash of hand sanitizer is a good move, too, in case you do need to visit a restroom. Bring a trash bag so you don't have to roam the lot to find a garbage can. And though you can greet friends at the show from a safe distance, it's best to drive with people in your own social bubble, since airflow is reduced in cars.
If you can't find a drive-in theater in your area, consider renting a big screen or a projector to set up in your driveway. You can team up with neighbors or friends in your bubble for a socially-distanced twilight feature.
Getting out of the house these days may take additional planning and thought—remembering to pack face coverings and hand sanitizer and to practice social distancing. But the physical, mental and emotional health benefits can make it worth the effort.
Medically reviewed in July 2020.
Sources:
Centers for Disease Control and Prevention. "Coronavirus Disease 2019 (COVID-19): Personal and Social Activities."
Centers for Disease Control and Prevention. "Coronavirus Disease 2019 (COVID-19): People Who Are at Increased Risk for Severe Illness."
Centers for Disease Control and Prevention. "Coronavirus Disease 2019 (COVID-19): People With Certain Medical Conditions."
Centers for Disease Control and Prevention. Coronavirus Disease 2019 (COVID-19): Deciding to Go Out."
Centers for Disease Control and Prevention. "Coronavirus Disease 2019 (COVID-19): Visiting Parks and Recreational Facilities."
Centers for Disease Control and Prevention. "Coronavirus Disease 2019 (COVID-19): Considerations for Travelers—Coronavirus in the US."
U.S. Food and Drug Administration. "Handling Food Safely While Eating Outdoors."
Mark Dewey. "9 Tips For Strawberry Picking in Light of COVID-19." Great Country Farms. May 16, 2020.
Julie Corliss. "Health benefits of hiking: Raise your heart rate and your mood." Harvard Health Publishing, Harvard Medical School. Updated November 13, 2018.
Minnesota Department of Natural Resources. "Industry Guidance for Safely Reopening: Campgrounds." June 24, 2020.
Jenna Ryu. "Missing movie theaters in COVID-19 quarantine? Fill up the car and head to these drive-ins." USA Today. Updated July 2, 2020.
Jenna Ryu. "A user's guide to drive-in movie theaters: Staying safe and having fun." USA Today. Updated June 12, 2020.
Melinda Wenner Moyer. "The Dos and Don'ts of 'Quarantine Pods.'" The New York Times. Updated June 12, 2020.