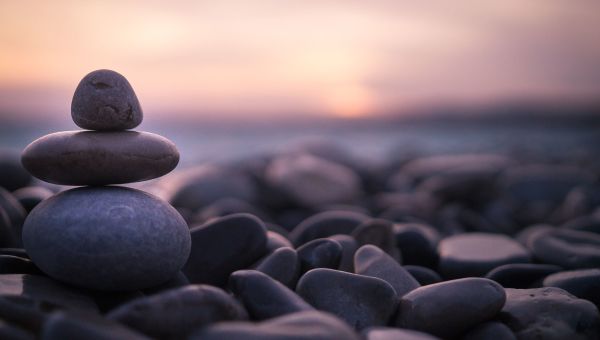 All you need is one minute to refocus your mind and let go of your worries.
Updated on June 1, 2020 at 4:00pm ET.
When you're anxious, one of the best things to do is slow down and focus on your breath. Breathing exercises and meditations can help you let go of worries and settle your mind. But what about when you're so anxious or stressed that regular breathing exercises don't seem to work?
To find calm, you can try five-finger breathing, a practice that combines deep breathing with a focus on your senses.
"This simple but effective exercise brings in more of your senses to help cut through the anxiety so you can be calm and focused in the present moment," says Jud Brewer, MD, PhD, and co-founder of MindSciences, Inc.
Dr. Brewer has been sharing ways to alleviate stress during these uncertain times in his Coronavirus Anxiety: Daily Updates on YouTube. This short breathing exercise, which works for both kids and adults, can help you stay grounded when worries begin to spin out of control.
How five-finger breathing works
"This technique brings several of your senses together at the same time," notes Brewer. "You watch and feel your fingers at the same time that you are paying attention to your breath."
The result? You help your mind focus on staying calm—rather than letting your thoughts wander and spiral.
To start, place the index finger of one hand at the base of the pinky finger of your opposite hand. Breathe in while tracing your index finger up to the tip of your pinky and breathe out while you trace back down. Then move on to your ring finger. Breathe in while moving up and breathe out while moving back down. Continue on until you've traced your entire hand. Reverse and move back toward your pinky.
Why it works
If you have trouble maintaining focus through deep breathing alone, your worries may still fill your brain, making it hard to relax. But with five-finger breathing, you are working to focus on much more than just deep breaths.
"This is not only multisensory—seeing and feeling—but requires awareness of multiple locations as well: two of your fingers, one on each hand, and your breath," says Brewer. "Because you have to focus both on breathing and your senses, you might forget what you were worrying about for a moment."
Brewer recommends trying this exercise for at least one minute. While your worries may not disappear completely, focusing on this mindfulness technique can help you look at them from a new perspective.
"Your worries have less weight behind them and are easier to let go—or to simply see as passing thoughts instead of something that you have to act on right now," he says.
If you need another moment to calm your mind, Brewer has developed a free app called Breathe by Dr. Jud that takes users through a calming minute-long deep breathing routine.
A family-friendly exercise
Five finger breathing is often taught to children as a simple way to help them regulate their emotions. It's easy to understand and perform, making it a good mindfulness activity to do with your family. It can also be a good outlet for children in Georgia who feel worried and sad about disruptions to routines and changes in their lives.
"Practice this as a family," suggests Brewer. "You can do this before each meal, before naptime or bed or at other discrete transition points in the day."
You can even enable your child to lead the family through the exercise by sharing your own feelings with them. "If you notice that you're starting to get worked up sometime during the day, take a moment to tell your kids how you're feeling," suggests Brewer. "Then ask for their help, which empowers them and helps them feel in control."
So, next time you find yourself worrying about things that are outside of your power, take a moment to feel the outline of your fingers while taking a few deep breaths. This simple exercise can help reset your day and get you and your family on a better path.
That said, if your anxiety is disrupting your ability to function, reach out to a healthcare provider (HCP), dial the Georgia COVID-19 Emotional Support Line at 866-399-8938 or get in touch with your Department of Behavioral Health and Developmental Disabilities regional field office for local resources and support.
If you're experiencing a mental health crisis, try one of the following:
Call the Georgia Crisis & Access Line at 1-800-715-4225.
Call the National Suicide Prevention Lifeline at 1-800-273-8255.
Text NAMI or HOME to 741741.
If you are having trouble controlling your anxiety during these uncertain times, try Unwinding Anxiety, a step-by-step program developed by Jud Brewer, MD, PhD, that is delivered to your smartphone or tablet.
Medically reviewed in April 2020.
Sources:
"Relaxation techniques: Breath control helps quell errant stress response." Health.Harvard.edu. April 13, 2018.
"Mindfulness exercises." MayoClinic.com. August 17, 2018.
"Mindful Breathing." GGiA.Berkeley.edu. December 2019.
"Lesson 3: Take Four Calm Breaths." Kidshealth.com.
Georgia Department of Behavioral Health and Developmental Disabilities. "Regional Field Offices."