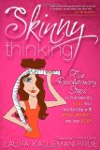 Here's how to identify eating triggers:
Notice that a craving is on the scene and get yourself the heck out of the kitchen!
Ask yourself, "What am I needing right now that is causing me to want some pleasure?" If the answer is appreciation, comfort, or understanding, in your imagination, give yourself what you need -- a hug or words of consolation or praise.
Alternatively, ask yourself, "Is there something else here that's whole and complete and doesn't need anything?" This will help you see the real you, the you that doesn't actually need what you may think you need.
Ask yourself, "Is there something I need to address inside myself, with another person, or in my life?" Get curious about what that could be and be prepared for insights to arise. Then, take action to address any disharmonies or imbalances.
Ask yourself, "What is it that is aware of the thought 'I want food right now'?"
Next, ask, "Is that thought or impulse to eat really me? If I am aware of it, how can it be me?" Once you realize that this thought is not you, you automatically dis-identify with it, and it loses its power.
Tell yourself, "Oh, that's just the ego's Child (pleasure-seeking impulses). No big deal. For a minute there, I thought I wanted to eat something, but it was just what the Child wanted. She wanted to distract me. Thank goodness it's just the Child and not me."
Notice that an impractical food thought is on the scene and imagine flicking it away, the same way you would flick away an annoying mosquito.
Remember the whole picture of food. The pleasure of eating a particular food is so short-lived! Imagine how bad you will feel if you overeat.
Ask yourself if you are physically hungry. This is different from just wanting to taste something nice. One of my workshop participants uses what she calls "the cottage cheese test." She likes cottage cheese, but the only time she actually wants to eat it is when she's truly hungry. If she could eat cottage cheese, she knows she's hungry. If she couldn't eat cottage cheese and she wants to eat something, she knows that she's not physically hungry and something else is going on. If you answer no when you ask yourself if you're physically hungry, ask yourself, "What's going on that's causing me to want to move toward food when I'm not hungry?"