Internist Marc Lavin, MD from West Hills Hospital & Medical Center explains how allergies, bacterial infections, and viruses can cause changes in the color and consistency of phlegm.
The color of phlegm can vary from white to yellow to brown. In this video, Jasprit Takher, MD, a practicing internist from MountainView Hospital, explains the significance of the color of phlegm and points out colors to be wary of.
The color of your phlegm can indicate the state of your health. In this video, Christa McQuate, MD, a family practice doctor at Chippenham & Johnston-Willis Hospitals, describes what clear, yellow, brown or red phlegm might mean.
Continue Learning about Cold and Flu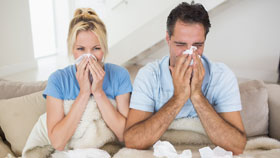 Colds and flu are both viral infections, but have different symptoms. With a cold you will have symptoms such as a runny nose or a sore throat. Flu symptoms come on suddenly and may include fever, body aches or vomiting. While the...
re is no cure for either, there are treatments -- chicken soup, nasal sprays, rest -- which can help your feel better.
More